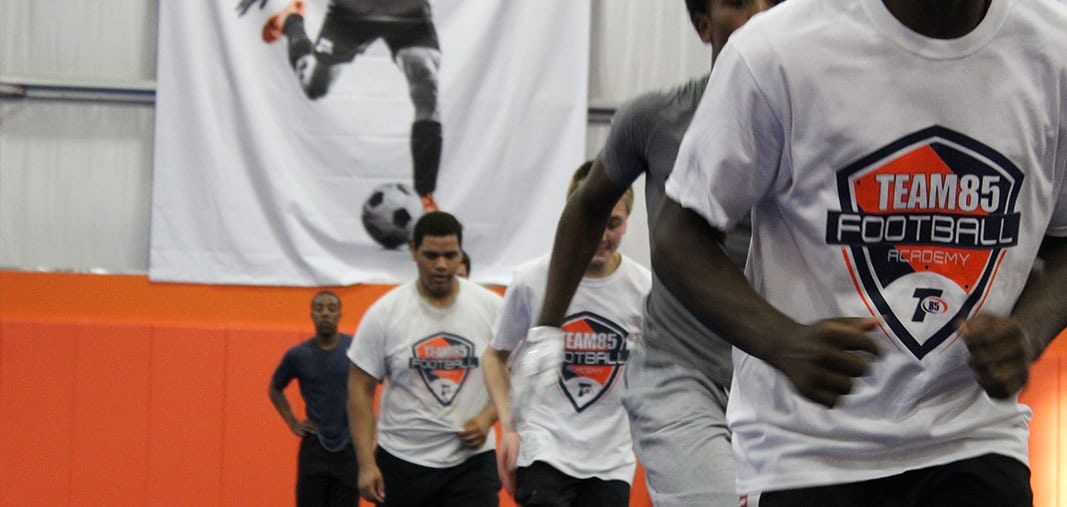 PREPARE TODAY TO WIN TOMORROW!
Team85 Football Academy is a 6-month elite player development program that focuses on building the total student-athlete through skill & position development, sports performance training, and mental conditioning. This program prepares athletes who are committed and driven, for the fierce competition that lies at varsity, collegiate and professional level football teams. If you want to be a great athlete it is not enough to play and practice any sport solely during the in-season.
Coaches and players around the world are recognizing this reality and academies such as the Team85 Football Academy are redefining the level of player that emerges when those Friday night lights illuminate the stadium. The difference between our program and theirs is that we win – and we mean that in the most complex of ways. At a simple level, yes, we prepare our players to win games. We condition our players to maintain momentum all the way through the fourth quarter and to be able to strategically understand the game in efforts to make strong decisions. Yet, what we define as winning is learning the process of winning. We work to develop a mentality within our players that centers around the play by play action as opposed to the result. When our players win, they know exactly what efforts led to that accomplishments. And vice versa if our players lose they know exactly the areas they need to improve to change that outcome the next round. That is what separates great players from good ones.
We enlist the best experts and motivators to not only take these athletes to the next level within this program but our platform prepares our players for academic success, recruitment, emotional maturity, leadership development and overall life skills that lead to success. You, your child or your player will benefit tremendously from this program and they will have a memorable time working toward their goals. We look forward to having you as part of the team.
Coaching is the cornerstone of all great programs and players.
Kevin Johnson
Aaron Beasley
Chuck Morris
Todd Smith
Pat Domin
Jesse Armstead
Jerimiah Trotter
Our Professional Coaching Staff has over 50 years of NFL playing experience
Our program is hosted in our 45,000 sq. ft. climate controlled facility providing 80-yards of turf and training space
Our program offers over 85 supervised workouts boasting over 250 hours of coaching
Our sports performance program – Train Like the Pros (TLP) – is included
Our program includes specialized tacks designed to improve player development, mentorship opportunity and recruitment guidance
HOURS OF OPERATION
MONDAY – FRIDAY
4am – 11pm
SATURDAY – SUNDAY
6am – 8pm
CONTACT

TEAM85 FOOTBALL ACADEMY DIRECTOR