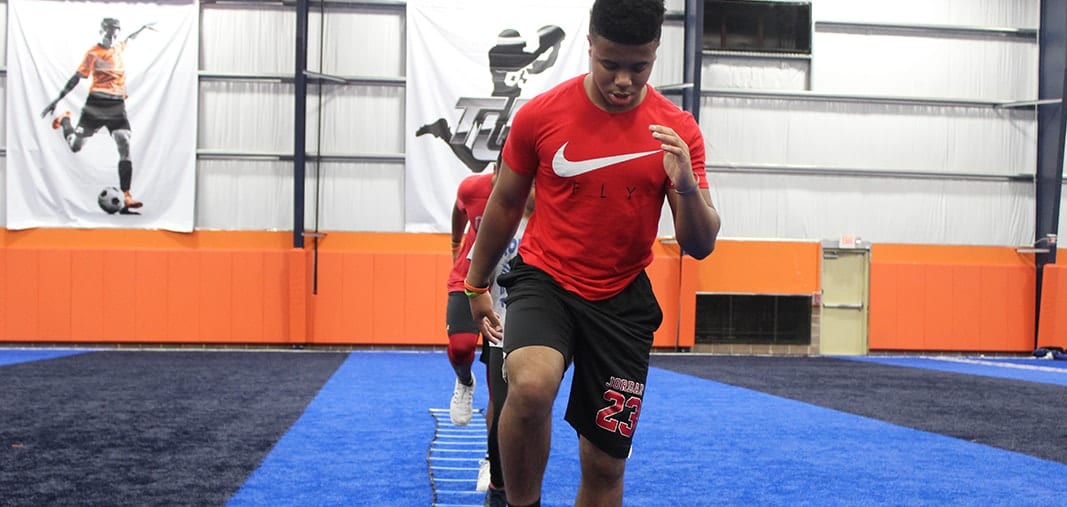 TLP FREE DEMOS
September 18  – September 21
ENCOURAGE,

MOTIVATE & INSPIRE
Athletes that are able to compete at a varsity, collegiate or professional level, are the ones that train year-round in efforts to keep their skills sharp and set themselves apart from the competition. They recognize that talent is limited when it comes to performance, but instead it is the athlete that works, grinds, sweats, learns, pushes, perseveres, and sacrifices that end up victorious. What kinds of athlete are you?
Train Like the Pros (TLP) is a multi-sport, youth sports performance training program committed to helping good athletes transform into great ones through training using the latest advancements in sports science and kinesiology. In general, our youth sports program is designed to 1.) increase performance by improving speed, endurance, strength, power, & flexibility and 2.) decrease the risk of injury through regeneration technique, sports massage, physical therapy, and nutrition guidance. Each player in our youth sports program receives a customized program that is designed for the specific sport they play. For example, a soccer player's program may focus on drills that improve footwork, speed, endurance and agility.
Our mission is to put an athlete at any age in the best position to maximize their strengths, achieve their personal goals and to become healthy. Our program is led by coaches and professional athletes who have had access to top line equipment, training and have competed amongst the top athletes in the country. By providing exceptional service and helping these young athletes grow, we will directly improve their quality of life.
As a first step in the youth sports training process, each athlete is taken through a comprehensive evaluation of strength, speed, and agility to determine their base level of performance in conjunction with their age. This evaluation will allow us to fit the athlete into the best performance level (red shirt, rookie or starter) with like individuals for maximum results. This test will be reviewed and used to track improvement.
One-on-One
Small Group Training – Monthly Enrollment
Team Training
We offer flexible 4 week, 6 week, 8 week, 12 week or customizable packages for all programs.
The RED SHIRT program creates a foundation in coordination, athleticism, body-weight exercises and proper running technique.
LAYING THE MENTAL FOUNDATION
Character Development
Build Work Ethic
DEVELOPMENT OF TRAINING KNOWLEDGE
Theory and Terminology
Instilling a Healthy Lifestyle
ATHLETIC DEVELOPMENT
Establish Core Strength and Flexibility
Development of Motor Skills and Movement Patterns
Strength Training Preparation through the Utilization of Body-Weight Exercises and Basic Weight Lifting Skills
Institute Speed, Plyometric & Conditioning Bases
The ROOKIE program focuses on progressing athletic movement with the introduction of speed mechanics, weight lifting, and spotting.
TRAINING KNOWLEDGE
Theory & Terminology
Instilling a Healthy Lifestyle
Expanded Character Development
INTERMEDIATE SPEED DYNAMICS
Acceleration Skills
Velocity Skills
LOW LEVEL PLYOMETRICS TRAINING
Double-Leg Jumps
Low-Level Hops
Low-Level Skips
IMPROVEMENT OF RANGE OF MOTION
Dynamic Flexibility
Static Flexibility
Proprioceptive Neuromuscular Flexibility
Functional Strength Exercises
STRENGTH ENHANCEMENT
Low-Level, Explosive Strength Lifts
Low-Level, Absolute Strength Lifts
Core Strength Exercises
Functional Strength Exercises
The STARTER program is designed to develop strength, power, speed and agility using Olympic lifts and advanced speed dynamics, mirroring a Division 1 collegiate program.
CHARACTER DEVELOPMENT
Broadened Character Development
Living a Healthy Lifestyle
ATHLETIC DEVELOPMENT
Advanced Linear Acceleration Speed Dynamics
Advanced Linear Velocity Speed Dynamics
Advanced Lateral Speed Dynamics
Intermediate- Advanced Level Plyometric Training
Intermediate- Advanced Level, Sport-Specific Strength Training
Advanced Flexibility Training
Advanced Joint Stability and Mobility Training
HOURS OF OPERATION
MONDAY – FRIDAY
4am – 11pm
SATURDAY – SUNDAY
6am – 8pm
REGISTER TO

TRAIN LIKE THE PROS