WE ARE PAS

SIONATE
At Team85, we are passionate about creating an experience that enhances the overall look and well-being of our customers. Our full-service Salon and Spa offers an extensive beauty and wellness menu to cater to the diverse needs of anyone. We are confident that whatever you choose, our Salon and Spa will have the perfect product especially for you. When you choose wellness, you win.
Hair Cut

$35

Braids

$15+

Women's Hair Cut & Blow Dry

$45+

Blow Dry & Style

$35

Add Full Curl/Flat Iron Design

$15

Up-Do

$75+

Sew-In

$80+

Brazilian Blowout

$300
Perm/Relaxer

$85

Conditioning Treatment

$20+

Nioxin Scalp Treatment

$50+
Boys

$15

Girls

$25

Bang trim

$10
Full head Single Process

$75+

Touch-Up Single Process

$60+

Double Process

$100+

Add On Toner

$25

Full Head Highlight

$100+

Partial Highlight

$90+

Special Foil (per foil)

$7

Add Color with Highlight

$25

Corrective Color

$100+

Baylage/ Ombre

$130
Manicure

$15

French Manicure

$5

Spa Manicure

$25

Gel Manicure

$35

Polish Change

$10

Pedicure

$25

Spa Pedicure

$35

Nail Design

$5
Little Diva Manicure

$10

Little Diva Pedicure

$20

Little Diva Mani & Pedi

$25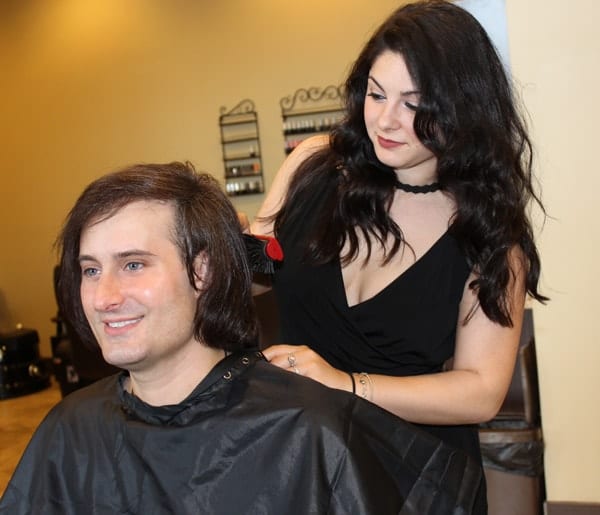 Eyebrow

$13

Center Brow

$5

Lip

$10

Brow & Lip

$20

Chin

$10

Cheeks

$10

Sideburns

$12

Full Face

$45
Half

$20

Full

$35

Underarms

$20
Basic

$35

Brazilian

$55

Underarms

$20
Shoulders

$25

Chest

$35

Abdomen

$25
MAS

SAGES
Express De Stress
25min$39
Team Massage – Enjoy our signature Swedish and balancing massage with aromatherapy oils. This massage option is the perfect choice for individuals or couples in need of total relaxation and rejuvenation.
50min$69
80min$99
Deep Tissue Massage – Our beauty and wellness team use technique that help ease sore and tight muscles, enhance circulation, and detoxify. This massage is recommended for those who enjoy intense body work.
50min$89
80min$119
Hot Stone Massage – Relax and relieve deep muscle tension with our therapeutic full body massage using aromatherapy oils and warm stones. The warmth of the stones helps your body to unwind by soothing muscle pain. Leave feeling rejuvenated and relaxed.
50min$89
80min$119
Muscle Therapy – This massage is designed for casual fitness goers to relieve tension, repair stressed muscles and improve performance. Therapist uses hot and cold contrast technique, and applies slow strokes on targeted problem areas.
50min$89
Sports Massage – Feel refreshed and play at your best. Our invigorating pre/post sporting event massage is designed for athletes and fitness goers to restore the body and enhance performance. Our Experts use technique to reduce pain and inflammation caused by strenuous exercise. This treatment allows athletes to recover faster.
50min$79
Prenatal Massage – Mothers-to-be can unwind with this specialty treatment that is designed to help alleviate low back pain and improve overall well-being. (We offer our prenatal massage during the last 2 trimesters of pregnancy. It is advised that expecting mothers consult with their physician before booking appointment)
50min$79
Reflexology – Stimulate your body. Our beauty and wellness team use technique that focus on the pressure points of the hand and foot to stimulate systems of the body. Reflexology helps detoxify the body for relaxation and well-being.
Complete your massage experience with the following treatments:
Scalp Treatment

$25

Foot Treatment

$15

Back Scrub

$15

Cold Stone Sinus

$15
FACI

ALS
Express Facial – Refreshes and rejuvenates the skin with light cleansing, exfoliating, masking and massage.
25min$39
Team85 Facial – Experience our signature facial designed to fit the individual needs of each client. Your skin will look years refreshed and years younger.
50min$69
Sensitive Skin/ Rosacea Facial – Soothe your skin with gentle touch and hypoallergenic/organic products. After treatment, your skin will be strengthened, hydrated, and purified. This treatment is perfect for individuals with irritation-prone skin.
50min$79
Vitamin C Facial – Experience the fountain of youth. Our concentrated vitamin C serum combats premature aging and sun damage. Your skin will be saturated with essential vitamins and will look nourished and years younger.
50min$79
Detox / Acne Facial – This detox treatment targets skin that has become congested. Our experts use products to reduce surface oil, remove dead skin cells, and hydrate skin.
50min$79
Rejuvenating Facial – Rejuvenate and repair aging skin with our peel and vitamin C treatment. This luxurious facial will minimize skin irritation, wrinkles, and improve hydration levels leaving the skin revitalized and radiant.
50min$99
Back or Chest Treatment Enjoy our detoxifying treatment designed to ease muscle tension and rid your skin of impurities.
50min$79
Eye Treatment – Smooth fine lines and wrinkles with this anti-aging, eye brightening treatment. This treatment uses specialized eye products to help reduce puffiness, dark circles and hydrate.
$10
Lip Treatment – Erase the signs of aging around your mouth. Our enriching formula restore firmness around the lip area.
$10
Lip & Eye Combo

$17

Hand Repair

$25
CONTACT

SALON & SPA DIRECTOR